Team Ride In Racing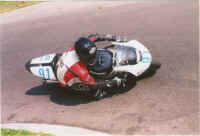 "Team Ride In Racing" are based in Reading, supported by Ride in Bike Tyres.
The team's number 1 rider, Mark Wilson, is also the owner of Ride In Bike Tyres. He has been racing competitively, with great success over the last ten years.
Mark's current race bike is a Suzuki GSX-R1000K7.
Opening Hours
Monday - 9am to 2pm
Tuesday - 9am to 5.30pm
Wednesday - 9am to 5.30pm
Thursday - 9am to 5.30pm
Friday - 9am to 5.30pm
Saturday - 9am to 3.30pm*
Sunday/Bank Holiday - Closed
*Please note Saturday closing time may vary - Please call first to avoid disappointment
Where Are We?
Ride in Bike Tyres, 81, Russell St, Reading, Berkshire RG1 7XG
Telephone 0118 9500300
Current offers
Many single and pair deals available currently. Call for details.
Need advice?
Use our advice area to find the tyre that best suits your needs.
Questions?
E-mail us at enquiries or give us a call on 0118 9500300.
Our prices
Our tyre prices include VAT, fitting & balancing to loose wheels*. Ride in, ride out for £10.60 per wheel including VAT.

*Please note, if you are bringing in loose wheels we do not require you to bring in the sprocket carrier or the wheel spacers. These are better left at home safe and sound, so as not to get lost during transportation.
We accept
You can choose from 5 different payment options.
We accept 4 Credit and Debit Cards: